Singclean COVID-19 Antigen Test Kit (Colloidal Gold) Nasal Swab is now included in the EU Common List!
On Oct 5th 2022, Singclean COVID-19 Antigen Test Kit (Colloidal Gold) Nasal Swab is included in the EU Common List!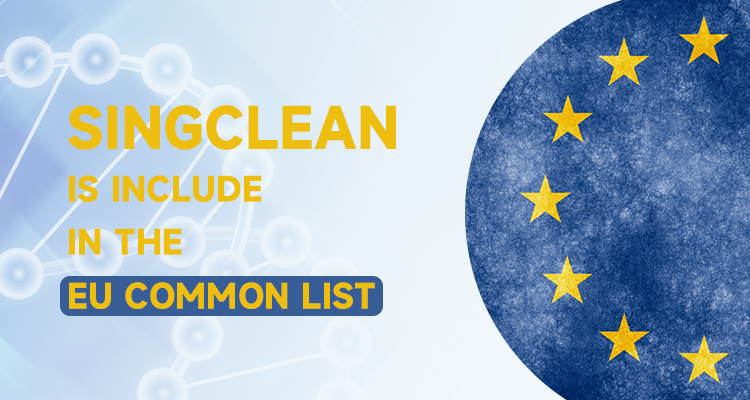 With the continuous development of Covid-19 and the raging of new mutant strains in the world, the demand for Covid-19 detection reagents in the international market is strong, and the Covid-19 Antigen Test Kit has become the "new favorite" for export.
In this context, the HSC (Health Security Committee) established a technical working group on COVID-19 diagnostic tests in May 2021 to review the proposal for EU national COVID-19 manufacturers and those that need to be included in the EU Common List of Rapid Antigen Tests.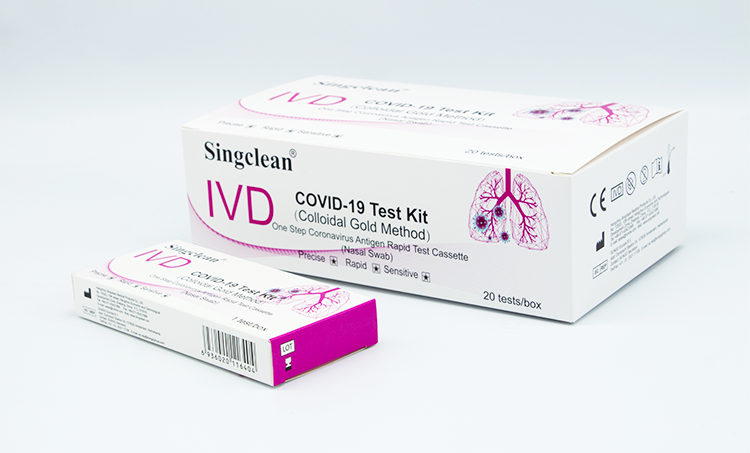 The document requires that the conditions for inclusion in the general list of COVID-19 rapid antigen tests are:
1. Carry CE Mark;
2. Meet the minimum performance requirements: sensitivity>90%, specificity>97%;
3. Validated for use with COVID-19 in at least one Member State, providing details of the methods and results of these validation studies, such as the type of samples used for validation, the environment in which the tests were evaluated, and where required sensitivity criteria or other performance indicators aspects can be satisfied.
At the same time, for the rapid antigen test results to be mutually recognized among member states, the Health Safety Committee (HSC) clarified that at least 3 member states should have verified and used a rapid antigen test in the above common list in practice, then the Only the test results can be mutually recognized. The so-called EU HSC Mutual Recognition List (Mutual Recognition List) comes from this.
Because of our strict quality control system and experienced registration team, we are honored to be trusted and included in Eu Common list!.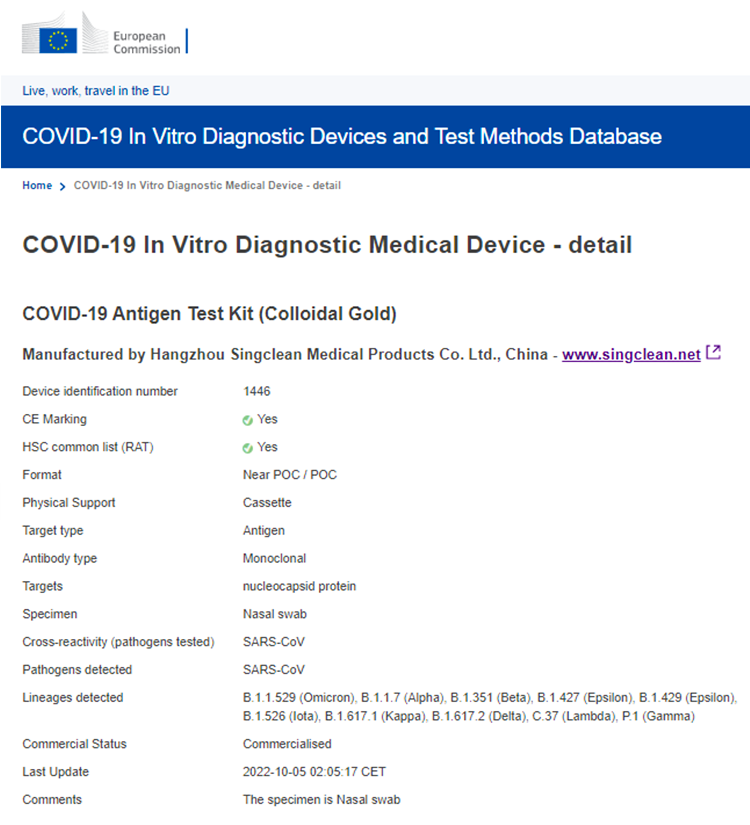 Singclean COVID-19 Antigen Test Kit (Colloidal Gold) Nasal Swab
EU Common List - https://covid-19-diagnostics.jrc.ec.europa.eu/devices/detail/1446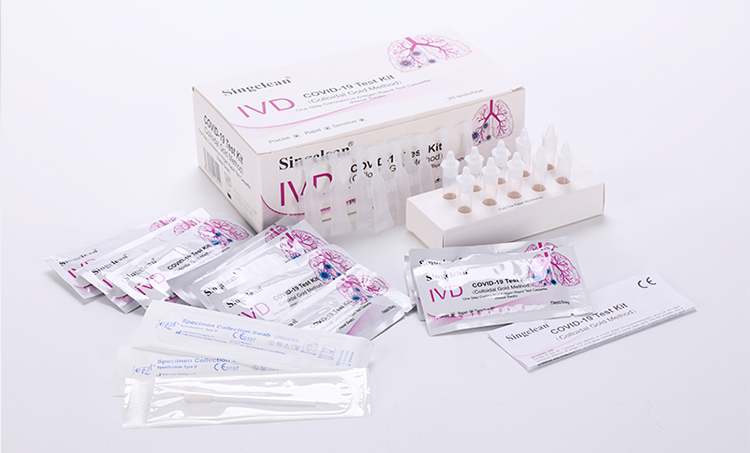 Intended Use
COVID-19 Test Kit (Colloidal Gold Method) is a solid phase immunochromatographic assay for the rapid, qualitative detection of antigens to the 2019 Novel Coronavirus in the human nasal cavity
PERFORMANCE CHARACTERISTICS:
1. Clinical Sensitivity, Specificity, and Accuracy
The results of the COVID-19 Test Kit(Colloidal Gold Method) were compared to the results of RT-PCR assays for SARS-CoV-2 in nasal swab specimens. A total of 499 nasal cavity specimens were tested in this study. The COVID-19 clinical specimens contain specimens from individuals with symptoms within 7 days. The results of the test reagent and control reagent both were 350 negative specimens and 149 positive specimens. The sensitivity and specificity calculated were valid in this study.