HYACLEAN MESO 1
Caution: General law restricts this device to sale by or on the order of a licensed physician or properly licensed practitioner.
BEFORE USING PRODUCT, READ THE FOLLOWINGINFORMATION THOROUGHLY.
1. DEVICE DESCRIPTION
Composition
Hyaluronic acid 15mg
Phosphate buffer pH 7.2 q.s. 1mL
One syringe contains 1.0mL of Hyaclean Meso1.
Hyaclean Meso 1 is a sterile, biodegradable, nonpyrogenic, viscoelastic, clear, colorless, homogenized gel. It consists of hyaluronic acid (HA) produced by Streptococcus equi bacteria, formulated to a concentration of 15mg/mL in a physiologic buffer.
2. INTENDED USE/INDICATIONS
Hyaclean Meso 1 injectable gel is indicated for injection into the superficial dermis and dermal-epidermal junction aimed at a whole new approach to skin rejuvenation for the face, neck, décolleté and dorsum of the hands.
3. CONTRAINDICATIONS
l Hyaclean Meso 1 is contraindicated for patients with severe allergies manifested by a history of anaphylaxis or history or presence of multiple severe allergies.
l Hyaclean Meso 1 contains trace amounts of gram-positive bacterial proteins and is contraindicated for patients with a history of allergies to such material.
4. WARNINGS
l The product must not be injected into blood vessels. Introduction of Hyaclean Meso 1 into the vasculature may occlude the vessels and could cause infarction or embolization.
l Product use at specific sites in which an active inflammatory process (skin eruptions such as cysts, pimples, rashes, or hives)or infection is present should be deferred until the underlying process has been controlled.
l Injection procedure reactions consist mainly of short-term inflammatory symptoms starting early after treatment and lasting < 7 days' duration.
5. PRECAUTIONS FOR USE
l Hyaclean Meso 1 is packaged for single-patient use. Do not resterilize. Do not use if package is opened or damaged.
l Based on preclinical studies, patients should be limited to 20 mL of Hyaclean Meso 1 per 60 kg (130 lbs) body mass per year. The safety of injecting greater amounts has not been established.
l The safety and effectiveness for the treatment of anatomic regions other than the face, neck, décolleté and dorsum of the hands have not been established.
l As with all transcutaneous procedures, dermal filer implantation carries a risk of infection. Standard precautions associated with injectable materials should be followed.
l Hyaclean Meso 1 is to be used as supplied. Modifications or use of the product outside the Directions for Use may adversely impact the sterility, homogeneity, and performance of the product and it can therefore no longer be assured.
l The safety for use during pregnancy, in breastfeeding females, or in patients under 18 years has not been established.
l The safety in patients with known susceptibility to keloid formation, hypertrophic scarring, and pigmentation disorders has not been studied.
l Hyaclean Meso 1 should be used with caution in patients on immunosuppressive therapy.
l Patients who are using substances that can prolong bleeding (such as aspirin, nonsteroidal anti-inflammatory drugs, and warfarin) may, as with any injection, experience increased bruising or bleeding at injection sites.
l After use, treatment syringes and needles may be potential biohazards. Handle and dispose of these items in accordance with accepted medical practice and applicable local, state, and federal requirements.
l Hyaclean Meso 1 injectable gel is a clear, colorless gel without particulates. In the event that the content of a syringe shows signs of separation and/or appears cloudy, do not use the syringe; notify Singclean Product Support at 0086 -571-63431868.
l If laser treatment chemical peeling or any other procedure based on active dermal response is considered after treatment with Hyaclean Meso 1, there is a possible risk of eliciting an inflammatory reaction at the indications site. An inflammatory reaction is also possible if the product is administered before the skin has healed completely after such a procedure.
l Failure to comply with the needle attachment instructions could result in needle disengagement and/or product leakage at the luer-lock and needle hub connection.
6. SIDE EFFECTS
The patients must be informed that they are potential side effects associated with implantation of this product, which may occur immediately or may be delayed. These include but are not limited to:
l Inflammatory reactions (redness, oedema, erythema, etc.) which may be associated with itching or pain on pressure or both, occurring after the injection. These reactions may last for a week.
l Haematomas.
l Induration or nodules at the injection site.
l Staining or discolouration of the injection site
l Poor effect or weak filling effect.
l Cases of necroses in the glabellar region, abscesses, granuloma and immediate or delayed hypersensitivity after hyaluronic acid injections have been reported. It is therefore advisable to take these potential risks into account.
l Patients must report inflammatory reactions which persist for more than one week, or any other side effect which develops to their medical practitioner as soon as possible. The medical practitioner should use an appropriate treatment.
l Any other undesirable side effects associated with injection of Hyaclean Meso 1 must be reported to the distributor and/or to the manufacturer.
7. METHOD OFUSE&POSOLOGY
A. To Attach Needle to Syringe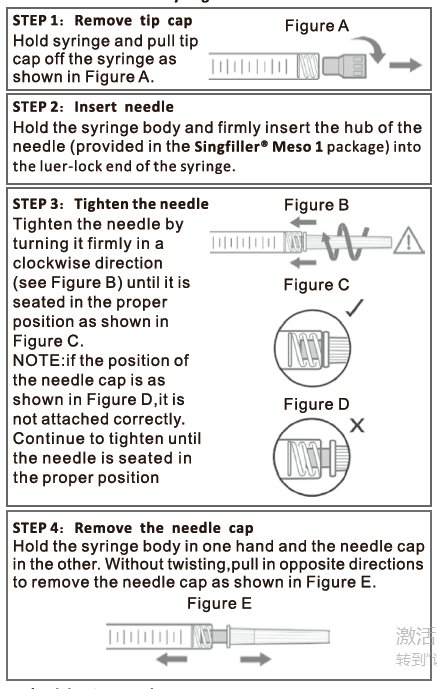 B. Physician Instructions
(1) This product is designed to be injected into the superficial dermis or the dermal-epidermal junction by an authorized medical practitioner in accordance with local applicable regulations. As precision is essential to a successful treatment the product must be used by medical practitioners who have undertaken specific training in injection techniques for filling
(2)Before starting treatment patients should be informed of the product's indications, contra-indications, incompatibilities and potential undesirable effects.
(3)The area to be treated should be disinfected thoroughly prior to the injection.
(4)Follow the above attaching needle to syringe steps.
(5)The injection technique may vary with regard to the angle and orientation of the bevel, the depth of injection, and the quantity administered. A multi-puncture (nappage) technique, micro-papular (picotage) technique, linear threading technique or cross-hatching injections, or a combination of the 2 have been used to achieve optimal results.
(6)Inject Hyaclean Meso 1 applying even pressure on the plunger rod while slowly pulling the needle backward.
(7)The amount injected will depend on the areas which are to be corrected.
(8)Initial therapy consists of 2 or 3 treatments with Hyaclean Meso 1 every 4 weeks, and then a maintenance treatment should be given every 4 to 6 months.
(9)The physician should instruct the patient to promptly report to her/him any evidence of problems possibly associated with the use of Hyaclean Meso 1.
8. STORAGE CONDITIONS
Store at 0 ℃ to 30 ℃, DO NOT FREEZE.
Protect from light.
Fragile.
Symbols used on sterile packaging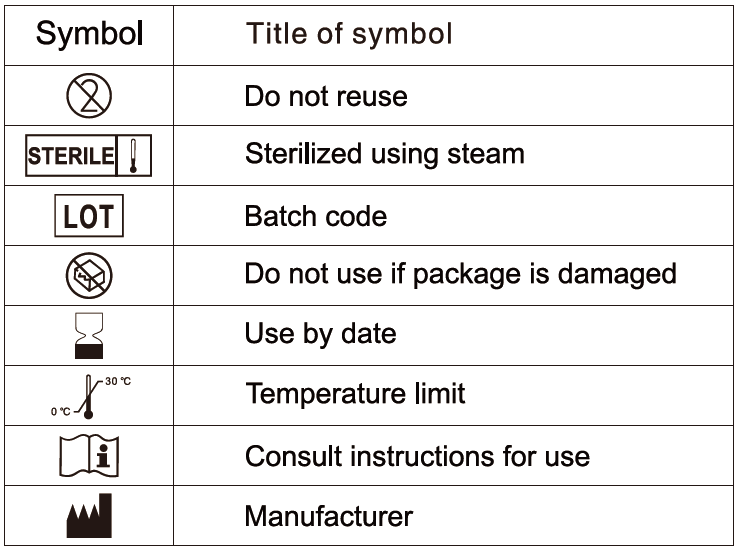 Hangzhou Singclean Medical Products Co., Ltd
No.125 (E), 10th Street, Hangzhou Economic and Technological Development Zone, Zhejiang, China.
Post Code: 310018
Tel: +86-571- 63431868
Fax: + 86- 571- 63431886