MPH Absorbable Hemostatic Particles Applicator
[Product name]
MPH Absorbable Hemostatic Particles Applicator
[Models]
TQ-4
[Main structure and property]
MPH Absorbable Hemostatic Particles Applicator (TQ-4) consists of Y-junction, catheter, connecting pipe 1, connecting pipe 2 and air filter (0.22μm), and the length of the catheter is 2 m. The applicator is made of medical polymer material, which has good biocompatibility, and is terminally sterilized by EO.
[Patient target groups]
The product is used in combination with MPH Absorbable Hemostatic Particles for patients requiring adjunctive hemostasis during surgery.
[Intended use]
The Applicator is intended to assist the delivery of MPH Absorbable Hemostatic Particles tothe treatment site in endoscopic surgeries.
[Direction for use]
To prevent product contamination prior to application, always follow aseptic techniques. For endoscopic surgical procedures which 'spray MPH Absorbable Hemostatic Particles to control bleeding:
TQ-4 clinical application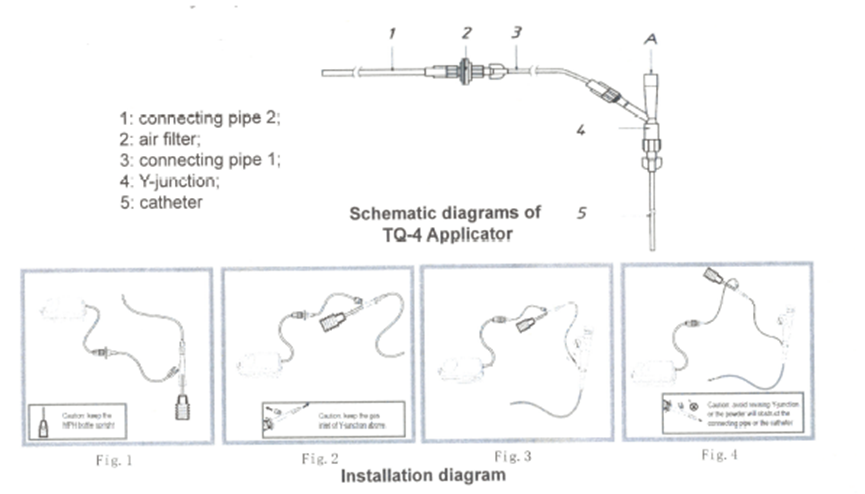 1. Prior to initiating the procedure, visually inspect to ensure each connection of the Applicator is well connected by Luer connector.
2. Firmly insert the MPH Absorbable Hemostatic Particles nozzle into the mouth (A) of Y-junction (Fig.1).
3. Connect the connecting pipe 2 to gas source with constant airflow (16±3 kPa) to prevent any fluids from the reverse flowing into the catheter (Fig 2).
4. Insert the catheter through a working channel on the endoscope (Fig.3) and position the endoscope to the bleeding site. Avoid direct contact of the catheter tip with any fluids.
5. Select the gas source to obtain a lower airflow (12±3 kPa). Gently tilt Y-junction to deliver the powder to the site of bleeding via gently pressing MPH bottle (Fig.4). Avoid direct contact of the catheter tip with any fluids. If that unfortunately occurred, the MPH bellows applicator can be removed in a squeezed state which can improve occluded problem.
6. Remove the catheter from the endoscope immediately after hemostasis is achieved.
[Contraindication]
None reported to date.
[Precautions]
1. This product is intended for single use only.2.Do not use if the package is damaged.
3. Avoid the applicator tip contacting with tissue, organs, or blood.4.The Applicator is sterilized by EO and should not be re-sterilized.
5. Avoid folding the catheter when delivering the MPH Absorbable Hemostatic Particles.
6. TQ-4 Applicator should apply quickly: deflation is required when spraying MPH Absorbable Hemostatic Particles in gastrointestinal tract for over a minute.
7. The used and expired products should be disposed of in compliance with pertinent government regulations regarding medical devices.
8. Please see the Instruction for use for MPH Absorbable Hemostatic Particles for complete information.
9. The user must be trained to obtain relevant qualifications before using.
10. In case of any serious incident related to the device, it shall be reported to the manufactur-er or the competent authority.
[Storage]
This product should be stored in a dry and ventilated environment at a storage temperatureof 2~30 c.
[Shelf Life]
It is valid for 24 months.
Issue Date:2022-06-30 8.13.04.506-A0