Xi's Visit to Portugal: Innovation center boosts science collaboration
Science and technology collaboration has been a key part of cooperation between China and Portugal. One of their projects is the Portugal-China Joint Innovation Centre for Advanced Materials. CGTN's Wu Lei visited the center at Zhejiang University in east China and found out more.
Doctors often use metal stents to treat heart disease. But there's a disadvantage: The traditional cardiovascular stent gets left in the heart forever. Researchers from Portugal and China are now developing an advanced bio-degradable stent to change that.
JI JIAN, DIRECTOR PORTUGAL-CHINA JOINT INNOVATION CENTRE FOR ADVANCED MATERIALS "What the innovations for ours is that we make it for bio-degradable, we made a coating which likes a sponge, then we can deliver many drugs and biomolecules, growth factors, which can enduce the healing of blood vessel."
Since the joint innovation center was built by the governments of Portugal and China in 2013, over 20 Portuguese experts have come to do research. In addition to studying advanced materials, they also work with 20 domestic companies to turn research into real products.
SHEN JING, CEO HANGZHOU SINGCLEAN MEDICAL PRODUCTS CO., LTD. "With the help of technology from this Portugal-China innovation center, we have largely improved our products' competitiveness. At the same time, the center also provides a window for showcasing our products abroad. So from technology to market channels, we all benefit from this collaboration."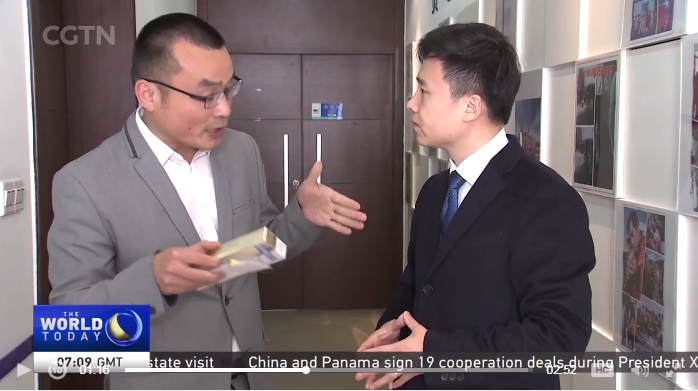 The center has set up four research programs covering biomedical materials, nanotechnology, energy and eco materials. And Director Ji Jian said it's easy to be creative when working with Portuguese researchers.
JI JIAN, DIRECTOR PORTUGAL-CHINA JOINT INNOVATION CENTRE FOR ADVANCED MATERIALS "Portuguese are very open and cooperative. So if you have some new ideas, you always get the positive response. So I think that is really important for the cooperation."
Portugal is one of the key partners for China among European Union countries. With Chinese President Xi Jinping's visit to Portugal, more agreements are expected to be signed in fields including finance, infrastructure and education.
WU LEI HANGZHOU "As Portugal pursues further science and technology collaboration with China, this university, research institution and trilateral Model are expected to transfer more advanced technologies and produce lifesaving medicines and equipment for people across the world. WL, CGTN, HZ, ZJ province."
REF:https://news.cgtn.com/news/794d444e7a494464776c6d636a4e6e62684a4856/share_p.html?from=timeline&isappinstalled=0